Iconic Los Angeles skyscraper Union Bank Plaza is hitting the market… again. A proposed sale of the historical building for $165 million fell through last week. What makes this even more surprising is that the office building was set to sell for $43 million less than its 2010 asking price. Is this indicative of lowered demand for office space? Or does another failed sale in 2017 insinuate other factors at play?
The Significance of Union Bank Plaza
At 445 S. Figueroa Street, just at the periphery of downtown LA's business district, you'll find Union Bank Plaza. Since 1967, it has stood proudly, despite its unassuming International-style architecture, on this spot. It may lack the instantly striking architecture of the Walt Disney Concert Hall. It can't compete with the historical significance of buildings like the Eastern Columbia or Bradbury. But it is still an integrated and embraced part of the Los Angeles skyline. And as the first skyscraper to be developed through the Bunker Hill Redevelopment Project, it's officially a Historic-Cultural Monument as of 2020.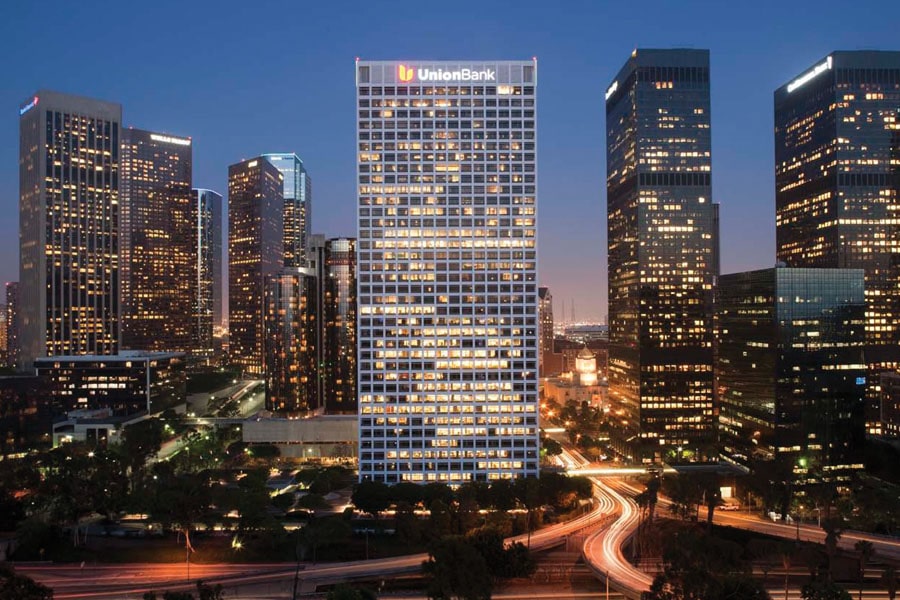 Gauging the Investment Potential of Union Bank Plaza
The Los Angeles skyscraper offers 674,731-square feet of office space and 27,157-square feet of retail capacity over its 40 floors. Two of those stories remain devoted to retail. When Union Bank Plaza initially hit the market in 2021, it was only 62% leased. While we can predict that this number's risen since more workers returned to the office over the last year, the low sale price leaves that up to speculation.
The building's largest tenant, MUFG Union Bank, still has 13 years to go on a 15-year lease. They take up approximately 30% of the building. The rest of the tenants average a weighted lease of 7.7 years.
The Building's Renovations
Currently, the notable Los Angeles skyscraper is undergoing restorative renovations. Of the $64.8 million invested in the upgrades, the bulk ($31.5 million) will be utilized to improve the tenant experience. Casual visitors will find the most noticeable differences in the redesigned lobby and courtyard, undergoing an overhaul that will take $9.1 million if the renovation costs. This will include upgraded elevator cars.
Other designations include $3.2 million for modernizing the conference center plaza, $10.2 million for retail needs, $2.6 million to update the boiler, and $8.2 million for general building enhancements. It's unclear whether any of this maintenance will go to the building's numerous induction HVAC units. 
To sum up, renovations include:
Redesigned lobby
Upgraded elevator cars
Redesigned courtyard
Modernization of the conference center plaza
Retail maintenance
Boiler updates
General building enhancements
The Iconic Los Angeles Skyscraper Has a Difficult Sales History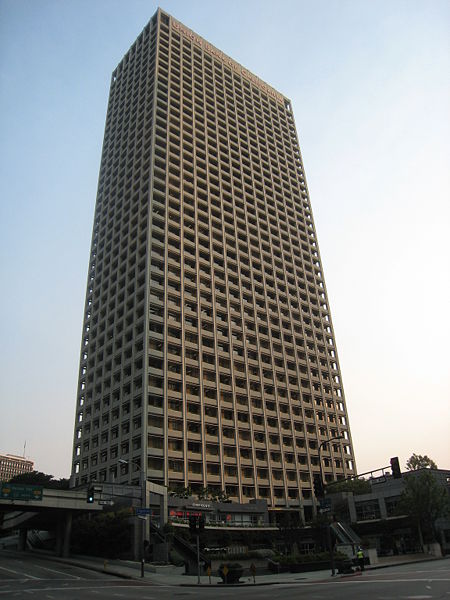 While the building was under contract to sell to Long Beach-based Harbor Associates for $165 million, the property investment group backed out for unknown reasons. Ownership is currently retained by KBS Real Estate which is located in Newport Beach. Following a 2020 vote to liquidate their assets, they placed the Los Angeles skyscraper on the market.
KBS acquired Union Bank Plaza in 2010 for $208 million. They made one other attempt to sell the building in 2017 for $280 million. That deal also fell through when the proposed buyer exercised a right to end the agreement.
A Rarity Among Los Angeles Commercial Real Estate
Union Bank Plaza is considered a Class A building, meaning it is categorized among the most elite office spaces available. You can count on a Class A building to demand higher rents from its tenants, but they're paying for quality and prestige.
Long-term holders own a staggering 84% of downtown LA's Class A office buildings. This makes Union Bank Plaza a rare investment opportunity. Its floor plan further sweetens that deal. The Los Angeles skyscraper offers over 100,000 square feet of consecutive office spaces. Only four other downtown LA buildings can make a similar claim.
With so many rare and unique benefits, it's difficult to guess why the recent Union Bank Plaza sale fell through. Another iconic Los Angeles skyscraper, the U.S. Bank building, sold in 2020 amidst the pandemic for $430 million. While no one but the transaction's parties know for sure, we'd guess it has to do with more than the current demand for office space.